Updated February 12, 2018
Our Newest Release
★ THE LAST GOOD MAN ★
Scarred by war. In pursuit of truth.
A near-future thriller
"...a thrilling novel that lays bare the imminent future of warfare."—Publishers Weekly starred review
Our Newest Release
Scarred by war. In pursuit of truth. ★ THE LAST GOOD MAN ★ A near-future thriller
"...a thrilling novel that lays bare the imminent future of warfare."—Publishers Weekly starred review
Welcome to Mythic Island Press LLC
Aloha! My name is Linda Nagata. I'm a novelist and the founder of Mythic Island Press LLC, an ebook and print publishing venture launched in January 2010.
All of our books are available as ebooks in both epub and mobi formats. Most can be purchased from Amazon, Amazon UK, Kobo, Barnes & Noble, Book View Café, or directly from Mythic Island Press LLC.
Most of our books are also available in print versions. Known as "trade paperbacks," these books are 5.5 inches x 8.5 inches in size, and can be ordered from online retailers by following the links below.
Visit my personal website at MythicIsland.com, and find my blog at Hahví.net, or follow me on twitter for news and chatter.
Thanks for stopping by--
Linda Nagata
---
New!
The Last Good Man by Linda Nagata
print ISBN: 978-1-937197-22-3 ebook ISBN: 978-1-937197-23-0
Scarred by war. In pursuit of truth.
Army veteran True Brighton left the service when the development of robotic helicopters made her training as a pilot obsolete. Now she works at Requisite Operations, a private military company established by friend and former Special Ops soldier Lincoln Han. ReqOp has embraced the new technologies. Robotics, big data, and artificial intelligence are all tools used to augment the skills of veteran warfighters-for-hire. But the tragedy of war is still measured in human casualties, and when True makes a chance discovery during a rescue mission, old wounds are ripped open. Shes left questioning what she knows of the past, and resolves to pursue the truth, whatever the cost.
The Last Good Man is a powerful, complex, and very human tale.
Publication date: June 20, 2017.
Shop for the Ebook
(Also available at other Amazon stores.)
Forthcoming:

Conserving the Future at Haleakala National Park by Ronald J. Nagata
(nonfiction)
When Ron Nagata began his career at Haleakala National Park, the park's lands were overrun with introduced goats and pigs. The impact of these animals was devastating to the native ecosystem. Many plant and bird species were already extinct, others were highly endangered. During his tenure, Ron oversaw the development and implementation of a conservation program that successfully removed these non-native species, setting park lands on the road to recovery. Conserving the Future at Haleakala National Park is a photo essay that tells the story of that effort.
Publication date: September 19, 2018.
---
Published titles by Linda Nagata: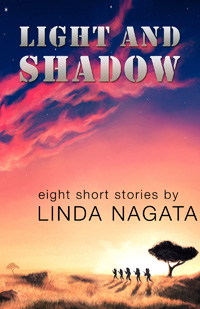 Light and Shadow by Linda Nagata
Eight stories by award-winning author Linda Nagata. Visit high-tech future battlefields, surreal other worlds, an orbital habitat, and a distant moon. Embrace action, and harrowing adventure. Half of these stories have appeared in various best-of-the-year anthologies, and each is introduced with brief notes from the author.
---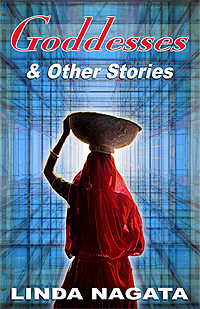 Goddesses & Other Stories by Linda Nagata
Ten science fiction stories by Linda Nagata, including the Nebula Award winning novella "Goddesses." This collection brings together for the first time Nagata's short fiction, originally published in Analog Science Fiction & Fact, The Magazine of Fantasy & Science Fiction, More Amazing Stories, and SciFi.com. Read more about the book here.
---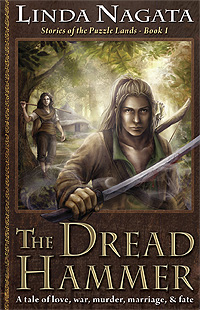 The Dread Hammer
Stories of the Puzzle Lands - Book 1
Published in 2011 under the pen name Trey Shiels, The Dread Hammer has been re-released in a second edition under my own author name, Linda Nagata, and with new cover art. If you're shopping for the print version, be aware that the old edition may still be offered during this transition period, depending on when and where the book is ordered.
The Dread Hammer is a dark tale of love, war, murder, marriage, and fate. Read more about the book at MythicIsland.com.
Click here to read an article on The Dread Hammer, published by The Maui News.
---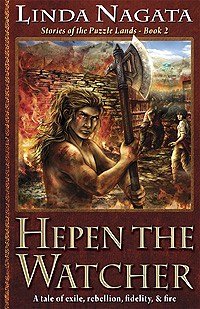 Hepen the Watcher
Stories of the Puzzle Lands - Book 2
Stories of the Puzzle Lands began with The Dread Hammer and continues with Hepen the Watcher -- a tale of exile, rebellion, fidelity, and fire.
The demon Dismay's murderous nature has earned him the ire of his beloved wife, who has sent him away in a fit of temper. In his exile he ventures south into Lutawa, a land ruled by an immortal king who punishes treason with the terrible weapon of infernal fire. Believing this king to be the same cruel deity known in the north as Hepen the Watcher, Dismay resolves to kill him--and accidentally ensnares two innocent young women, Ui and Eleanor, in his schemes. Read more about the book at MythicIsland.com.
---
The Nanotechnology Novels . . . now, The Nanotech Succession
The nanotechnology novels were originally published from 1995 through 1998 by Bantam Spectra. In November 2010 they were re-published as ebooks by Mythic Island Press LLC under the collective title The Nanotech Succession. Each novel works as a stand-alone story, but since they share the same story world and sometimes the same characters, they can also be read as a loose series. Tech-Heaven is a near-future prequel. The Bohr Maker is Book 1, followed by Book 2, Deception Well, and culminating in Book 3, Vast.

Tech-Heaven - A Prequel to the Nanotech Succession
A political thriller that imagines the rise of nanotechnology in our world through the eyes of Katie Kishida, a mother and business woman whose life takes an extraordinary turn when she is widowed, and her husband's body is cryonically frozen against a time when advancing technology will allow his resurrection.

The Bohr Maker - Book 1 of the Nanotech Succession
Society has expanded into the great orbital habitats known as the "Celestial Cities" and nanotechnology saturates every aspect of life--but the rules regulating its use are still being written. A brilliantly original, fast-paced thriller, The Bohr Maker won the Locus Award for Best First Novel.

Deception Well - Book 2 of the Nanotech Succession
Advancing technology has allowed human civilization to expand across star systems, establishing settlements divided from one another by vast gulfs of space and time. But all along the frontier, human settlements are under attack by the ancient and deadly robotic warships of a mysterious alien race known as the Chenzeme.

Vast - Book 3 of the Nanotech Succession
Four people are aboard the great ship, Null Boundary. They are bound for the lightless clouds of dust and gas in the galaxy's Orion Arm, determined to find the source of the alien Chenzeme warships that have ravaged human civilization. Vast is an extraordinary adventure embracing the limitless nature of both space and time.
Science fiction writer Alistair Reynolds recently had some very nice things to say about Vast. Find his blog post here.
The Nanotech Succession Omnibus Edition
All four books of The Nanotech Succession are included in this omnibus edition: Tech-Heaven, The Bohr Maker, Deception Well, and Vast. This edition DOES NOT include Bruce Jensen's original cover art.
Other Story Worlds:

Memory
A unique far-future adventure set on a world where the past rises up each night to rewrite the future.
Science fiction writer Tobias Buckell talks about Memory. Find his blog post here.

Limit of Vision
A near-future thriller set in the steamy Mekong Delta. Ethics and evolution collide in this tale of runaway biotechnology.

Skye Object 3270a
A far-future, high-adventure young-adult novel aimed at an advanced middle school audience. The story is set in the Deception Well story world, but is otherwise independent of that book and its characters. If you want to infect a new generation with the science-fiction meme, start here!

The Wild
An origin myth and a tale of high fantasy.
Bulk Purchase of Print Books
Most of our books are available through the Ingram catalog. Booksellers, universities, and others interested in purchasing multiple copies should order directly from Ingram.
Our short story collections are presently available only through Amazon.com.
Please contact us if you have any questions.
Newsletter Signup
Want to be notified when a new book or short story is out, along with other writing-related news? Use this form to sign up for my newsletter. Your email address will be used only for my newsletter, will not be shared, and of course you can unsubscribe at any time.
Links